Bring Your Rock Polishing Hammers, You're Going To Need One Where We're Going
So the other day I see a tweet from everyone's favorite west London 90s post-grunge band Bush, and it's a teaser for a concert festival they will be a part of this summer in Ohio.
First impression, is great, I live in Ohio, I like Bush, and I like the summer. What more do I need to know…
Then I saw the lineup poster…
So a lot to break down here.
First, it's billed as a music and tattoo festival.
Musica festivals – great. Live music, tons of bands, outdoors, summer, $18 bottles of water, I can't ask for anything more.
Tattoo festivals, on the other hand. Being a non-tattooed nerd I hear this and just picture a tattoo artist in a tent sort of assembly-line-style tattooing a line of 180 people one after the other never cleaning the needle and single-handedly infecting half the concert with Hep C.
Idk, maybe I'm wrong. However, when you look at the exact location, this is literally being held at Mansfield Prison, which I can assure you is 1.) a prison, and 2.) in the middle of literal nowhere.
Mansfield prison is most well known for being a functioning prison to this day, but also housing the campus of a now defunct prison building called the Ohio State Reformatory which will be hosting this festival. It does tours for visitors who I guess just somehow end up in Mansfield. But it's most famous for being the setting for where the film The Shawshank Redemption was filmed.
Great movie. I can only assume a slightly less enjoyable $35 tour.
However, upon learning these first two facts, the name of the festival becomes a little more clear.
That's right, they're calling it the "Inkarceration" Music & Tattoo Festival.
I mean, yeah, a little dark, no?
But now we have to get to the actual lineup. Preposterously deep.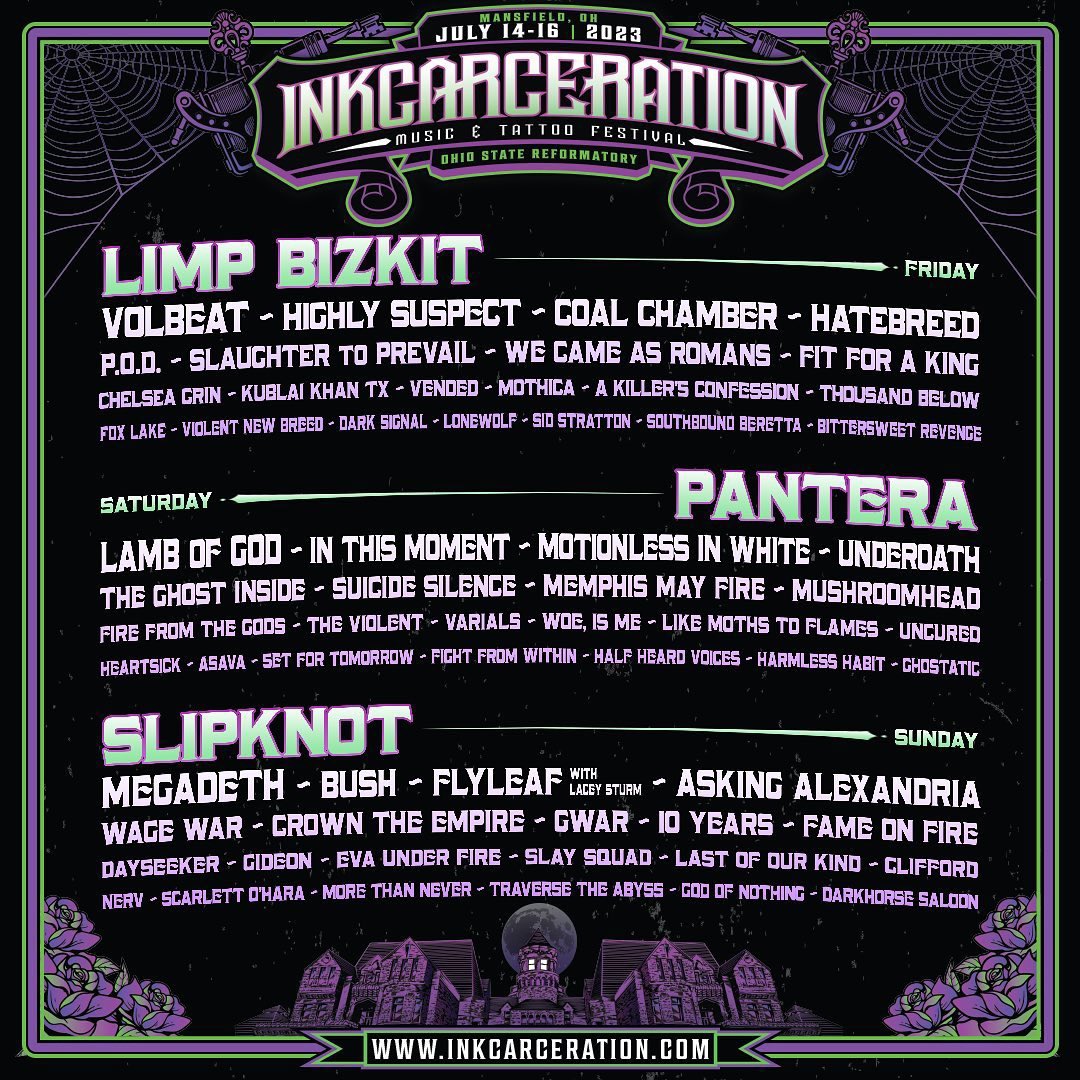 Headlined by Limp Bizkit, Pantera, and Slipknot, featuring P.O.D., Hatebreed, Suicide Silence, and then just rounding off Sunday piling in Megadeth, Bush, Flyleaf (Flyleaf!), Asking Alexandria, and Gwar.
Literally just popping off, assuming you're into any of that music.
Of which, I'm sadly mostly not. At any rate it's like a crazy deep lineup for metal, screamo, rock so credit to whoever booked this lineup for Inkarceration, and negative kudos to whoever named it Inkarceration.
Bonus time, alternate names for Inkarceration Festival:
Fields of Men Festival (now see the joke here is, it's in Mansfield, OH, right?, and aside from the like crazy overly-pierced emo girls in their mid-40s and mid 2-bills this is going to be one festival for the fellas)
Rita Hatebreed and the Woodstock '99 Redemption
Bush v. Gwar
Highly Suspect on Whether This Festival Will Occur or Not Festival
At any rate, you can get your tickets now at the festivals website here.